Why use the HRCP program?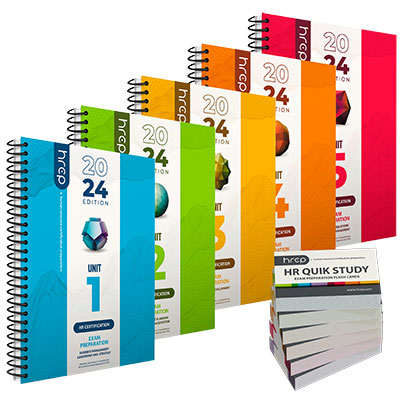 The HRCP Program is Comprehensive and Relevant
The study materials cover the HR Body of Knowledge.
The study materials follow the HR Certification Institute exam content outlines.
The content is revised and updated every year.
The HRCP Program provides various study options
Print and/or online options are available.
The online version includes an audio reader.
Printed flash cards are included with the PHR/SPHR & aPHR print editions and electronic cards are included with all online editions.
Online practice exams are included with each set of study materials.
Sample study schedules are available to help keep you on track.
We partner with many organizations who offer HR certification preparation courses.
The HRCP Program is backed by Experience
We have been providing HR certification study materials for more the 20 years.
Our main author served on the HRCI Board of Directors for eight years.
Our staff takes the exams on a regular basis to ensure our materials cover what is being tested on the exams.
The HRCP program has helped thousands of test-takers successfully prepare for their HR certification exams.